About GATE CITY OHSAKI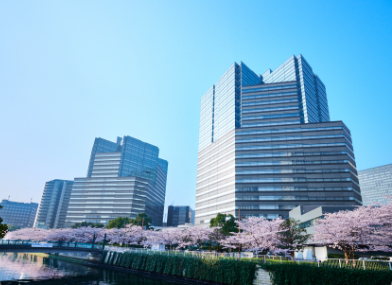 A large multi-purpose city directly
connected to Ohsaki Station
"Gate City Ohsaki" is a complex redeveloped facility replete with a variety of urban functions and centered around the Office Towers (2 towers and a low-rise portion with commercial/cultural facilities), with 24 stories above ground, and the "South Park Tower", a residential tower with 20 stories above ground. Located conveniently just 1 minute walking directly from "Ohsaki"
Station on the JR Yamanote Line, this space is a central point of business and a place of rest, and its events, restaurants and shops are visited by a wide array of people from businessmen to families.
Guide to the Facilities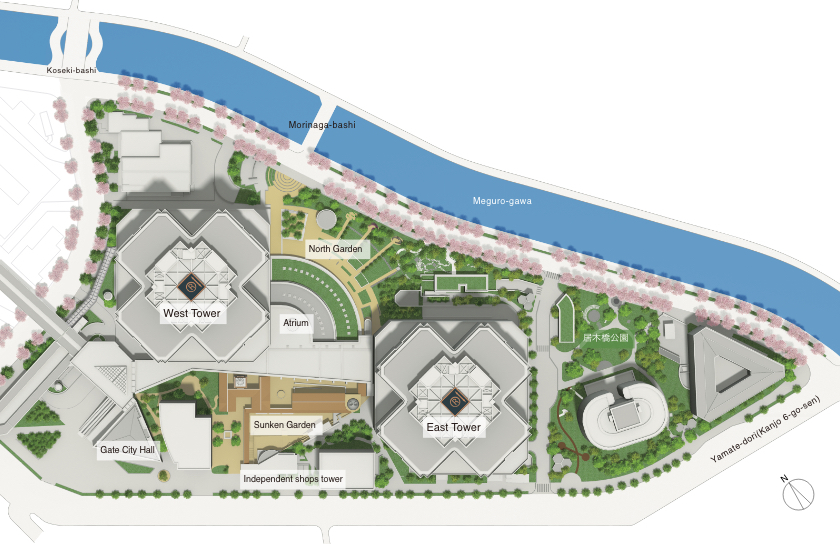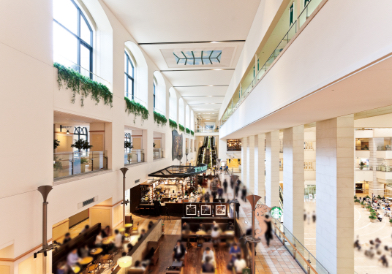 B1-3F
Shop&Restaurant
The "Gate City Plaza" is the commercial low-rise portion and features restaurants and sales/service shops centered in the huge, 5-story large connected open space "Atrium".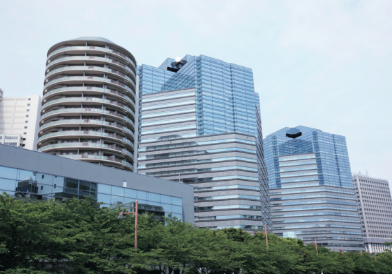 3F-24F
Office Floor
The "East Tower" and "West Tower" offices, each standard floor plan of which house 3300 square meters of office space for rent.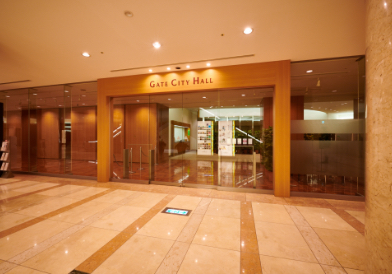 B1-1F
Hall&Room
With audience seating for 440 people, all of which is movable and storable, the "Gate City Hall" can serve a wide variety of purposes including concert hall and flat hall, and also has 4 conference rooms which can be used as needed.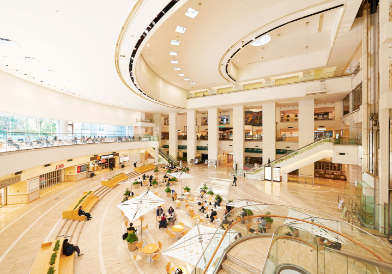 B1
Atrium
It is a space full of a sense of openness with 5 floors in one large open space. It can be used for a meal or just a quick break. Furnished with warm-water based floor heating, this indoor plaza is comfortable all year long.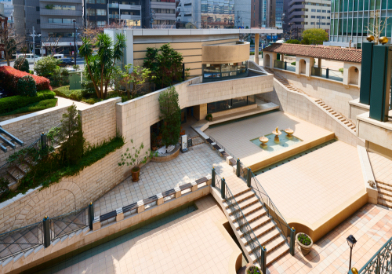 B1
Sunken Garden
Stepping right out from the Atrium, you will find a different world of elegant scenery with filled with a European aroma and the sound of water flowing from the fountains.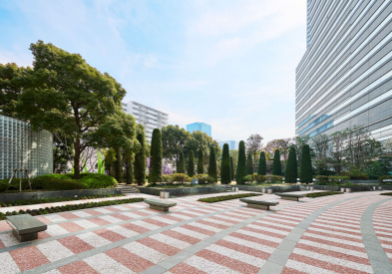 1F
North Garden
This spot, with flowers fully blooming as the seasons pass, allows you to experience the seasons. It is an open outdoor space in which you can spend time relaxing surrounded by green. The benches and terrace seats make it a perfect place to have lunch when the weather is good.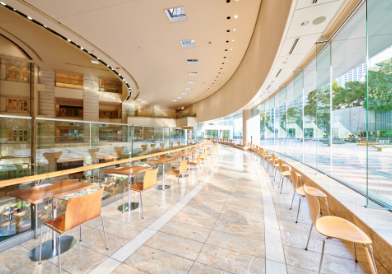 1F
First Gallery
A terrace located on the Northern side of the 1st floor of the Atrium. Tables and chairs are lined up. Allowing you to look out onto the Atrium, and also enjoy the view of the North garden, it's almost like sitting in theatre seats.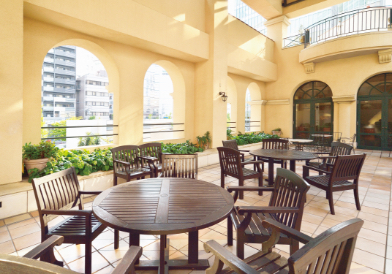 2F・3F
Rooftop Plaza (Gardening Deck)
Like a village built on the slopes of hills, this plaza is connected via the outdoor staircases. Please visit this plaza with its water fountains for sunny days, and a roof for rainy days.
Guide to Services
Guide to Information Counter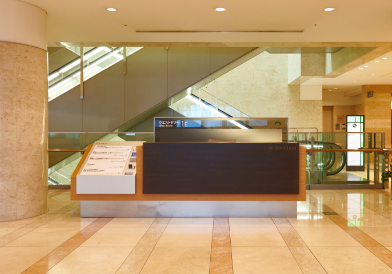 [Location]
West Tower 1F・3F / East Tower 1F・3F
[Hours of Availability]
Weekdays / 8:30-18:00
Weekends / West Tower (3F)9:30-17:00,(1F)10:00-16:00
Post Office / ATM Cash Dispenser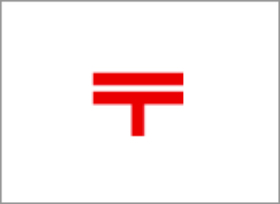 Gate City Ohsaki Post Office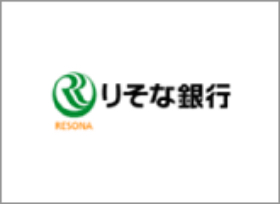 Resona Bank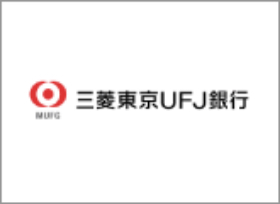 Bank of Tokyo-Mitsubishi UFJ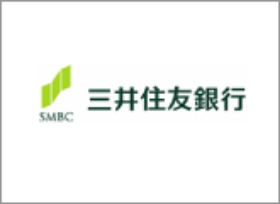 Mitsui Sumitomo Bank
To those with Disabilities
Location of Wheelchairs
There are a total of 4 wheelchairs located at the 1F and 3F West Tower and 1F East Tower Information Centers, and at the disaster prevention center.
The disaster prevention center lends the wheelchair out 24 hours a day.
Toilets with Ostomate Support
The handicap toilet in the East Tower B1 is furnished with ostomate rinsing facilities.
Assistance Dogs
Customers with assistance dogs (seeing eye, service, and hearing assistance dogs) can have them accompany them inside.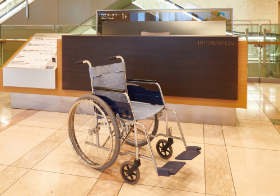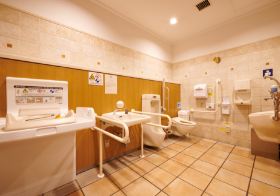 AED (automated external defibrillator)
These are located beside the Information Counters in the West Tower 17F, 9F, and 3F, beside the Information Counters in the East Tower 16F, 9F, and 1F, at the disaster prevention center, and at the Gate City Hall Reception.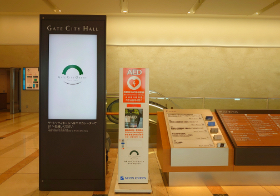 Regarding Events
Throughout the year we periodically hold events such as live concerts and film showings, family-oriented
events, and decorative displays
which reflect the seasons like Star Festival and Christmas.
We also send out event information via our mail magazine. Please sign up for it.
Regarding Environmental Efforts
At Gate City Ohsaki, in order to pass on a rich environment to the future, we carry out various ecological measures.
Emergency Earthquake Alerts
Regarding Emergency Earthquake Alerts at Gate City Ohsaki
Gate City Ohsaki has installed equipment which can broadcast "emergency earthquake alerts" into the facilities. When a level 5 or greater earthquake is predicted, after a chime is sounded, the following sample sentences are broadcast to inform those in the facilities that a strong tremor will come in XX seconds.
Broadcast Sentence Examples
【When an earthquake will arrive in 30 seconds or less】
"This is an emergency earthquake alert. There will be a large tremor in less than 30 seconds. A large tremor is coming."
【When an earthquake will arrive in 15 seconds or less】
"This is an emergency earthquake alert. There will be a large tremor in less than 15 seconds. A large tremor is coming."
A request to visitors of Gate Ohsaki
When you hear this broadcast, depending on your surroundings, do not panic and crouch down on the floor and brace yourself, etc., in order to ensure your safety.
All elevators in the facility will stop at the nearest floor and the doors will open automatically, so please leave the elevator and secure your safety.
Response inside the facilities in the case of an emergency earthquake alert broadcast
1. The emergency earthquake alert will be broadcast in all areas of the facilities (atrium, halls, elevators, shops, parking areas, etc.).
2. The elevators will stop on the nearest floor and the doors will automatically open.
3. Gate City Hall's (B1) lights will all turn on at once.
About emergency earthquake alerts
The Meteorological Agency's Earthquake Early Warning is an warning alert sent out before a strong earthquake tremor arrives. By predicting the scale of an earthquake and how strong it will be in various locations through the sensing of the early small tremors near the hypocenter and then announcing large tremors several to several dozen seconds before they occur, it is expected to be useful in disaster prevention and reduction. In order to utilize the emergency earthquake alerts, it is necessary to sufficiently understand their characteristics. It is necessary to always be aware of such things as the fact that the emergency earthquake alert might sometimes not come soon enough, and what actions to take when an alert does come.